Grand Baccarat Live
Grand Baccarat is a live version of the iconic casino game developed by Playtech. The setting clearly wants to emit that VIP vibe and make players feel as if they are in a real Las Vegas casino. Of course, there is more to this game than just a fancy setting. The devs spiced things up with additional side betting options, some of which are uniquely tied to this version of Baccarat. Moreover, these side bet options are not tied to basic wagers, meaning they can be placed independently. This opens up a lot of options for new strategies for experienced players.
How it works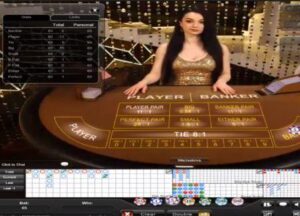 As stated the game has all the features you would expect from a live Baccarat game, like an attractive dealer, a table specifically designed for the game, and multiple card decks that are placed and shuffled in a shoe. The core rules are also identical, giving you the option to wager on player, bank, or tie outcome.
The new side bet options that were mentioned include Dealer Pair and Banker Pair, and they both pay 11:1, which is a pretty sweet multiplier for the winnings. On top of these two options, you also have a Perfect Pair bet which pays 25:1. Of course, there is also the iconic tie bet called Egalite Extra and it acts as a jackpot in this version of the game as well, since it pays 150:1.
You can also view personal statistics and game history in the upper left corner, and in the opposite corner, you can view the time and cards that were displayed so far. Players can also communicate with the dealer using the live chat option, which adds a nice social element to the whole game dynamic in Canadian online casinos. Finally, players can use setting options at the bottom of the screen, in case they need to adjust volume, or simply go over the game rules, etc.