Live Prestige Baccarat Review & Bonuses
Prestige Baccarat Live is an online casino game developed by Playtech. It aims to provide more immersive gameplay compared to a regular online Baccarat, by relying on multiple camera views, attractive dealers, and lush aesthetics. The idea is to allow players to feel as if they are playing in a prestigious brick-and-mortar casino, but also to make the game more interesting by relying on the different side bet options. If you love red decorations and setting filled with Chinese symbols that act as a lucky juju, then you will definitely enjoy Prestige Baccarat Live.
How to Play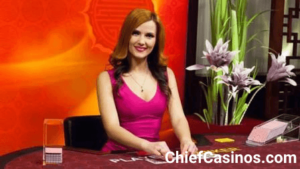 Anyone who plays in online casinos Canada knows the rules for regular Live Baccarat can play this game. There are some slight alterations that do not affect these core rules and give the game a breath of fresh air. This means that the standard bets like player, banker, and tie are all still here and work exactly as you would expect. Each table can accommodate up to 7 players and uses an 8-deck shoe, and there is a standard 5% commission for banker winning bets.
What's Different
As mentioned there are some minor alterations or additions to the game, to make it more engaging. These include side bet options that allow players to place riskier wagers but have a better payoff. The side bets, in this case, are Banker Pair, Player Pair, and Perfect Pair. There is also Playtech's signature feature known as Egalite Extra, which incentivizes players to bet on the tie outcome. Moreover, it requires players to guess a specific value of tie, but in return, you can get the odds that go to 220:1.
So if you wish to play baccarat online that also has lots of side bet options, authentic casino setting, with top tier video and audio quality then definitely go for Prestige Baccarat Live.