Famous Gamblers of the Old West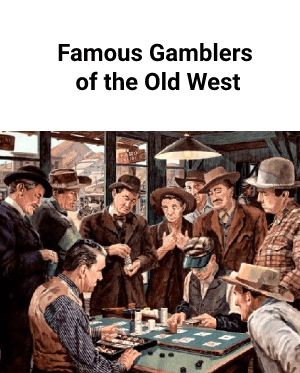 The Old West's most famous gamblers were well-known stock figures in the nineteenth century. Gamers have traditionally come from all walks of life. People's attitudes about gambling altered as the West became more populated and domesticated, forcing almost every state and territory legislature to enact anti-gambling laws to "clean up" their towns. The gambler has persisted as a captivating cultural image as a representation of the west's tolerance and readiness to accept risks.
In popular culture, a tall, slender guy with a mustache is often represented as a frontier gambler. A southern background is frequent among frontier gamblers, lending them a gentlemanly look and behavior.
Gambling and its participants are often depicted in Western literature, cinema, and television, reflecting the pervasiveness of gambling in Western society. As seen by the frequency with which these scenarios happen, there is a strong association between the West and gambling, just as there is between the West and cowboys or lawmen. Gambling is a simple narrative technique that may be used as a setting for character discussion, a drive for the tale, or a background. In the case of card games, for example, these pictures have grown so ubiquitous that they have become cliché.
In this article, we'll provide you with information on who are the most famous gamblers of the Old West, including:
Bat Masterson
Pat Garrett
Doc Holliday
Lottie Deno
Bat Masterson
"Bat" Masterson established himself as a buffalo hunter, citizen scout, and Indian fighter on the frontier after migrating to the Great Plains as a youth. In July 1872, Raymond Ritter, a subcontractor for the Atchison, Topeka & Santa Fe Railroad, hired Ed and Bat Masterson to grade a five-mile piece of track for the railroad. Ritter just vanished after failing to pay the Masterson brothers their full compensation.
It is also worth mentioning that after a year of haggling, Masterson eventually reclaimed his delayed pay from Ritter at gunpoint. On April 15, 1873, the arrival of a Santa Fe train in Dodge City, Kansas, alerted Masterson to the fact that Ritter was transporting a large sum of money. It was only Masterson who boarded Ritter's train, where he forced Ritter to pay over $300 in debt he had accumulated from his brother Ed and an associate named Theodore Raymond. A huge crowd gathered at the moment applauded heartily.
This gunfighter and professional gambler resembled a Renaissance man. He used his profits to travel and sponsor prize fights, two of his numerous passions.
He subsequently amassed enough funds to start his own Olympic Athletic Club, where he sponsored aspiring boxers for $100,000 each year (and organized pools on matches).
Doc Holliday
Henry Doc Holliday, an American gambler and gunfighter, was also a dentist. Holliday is most known for his involvement in the events leading up to and after the Gunfight at the OK Corral, during which he was a close friend and companion of lawman Wyatt Earp. Despite the prevalent perception that Holliday murdered more than a dozen people in a variety of altercations, recent research has shown that Holliday killed just one to three people. Numerous books and films have been written on Holliday's life and character, and many of them have starred well-known actors.
This notorious criminal is perhaps most known for his participation in the historic O.K. Corall shooting (which he survived). Holiday, a tuberculosis sufferer, was fearless, which was reflected in his gambling habits.
When he was a youngster, a black female family friend taught him how to gamble, and he grew up to be a deadly card player with a count to match.
Lottie Deno
In the late 1800s and early 1900s, Carlotta J. Thompkins, better known as Lottie Deno, was a well-known poker player in Texas and New Mexico.
Her real birth name is debatable among historians, but her reputation as a poker player in the Southwestern United States is not.
Lottie Deno was a more prolific and lucrative gambler than Poker Alice, despite her relative obscurity. She earned the moniker "Poker Queen" after defrauding Doc Holiday in a poker game.
She was eventually able to retire comfortably, having amassed a considerable fortune, and lived to be 89 years old.