How Often Do Slots Hit the Jackpot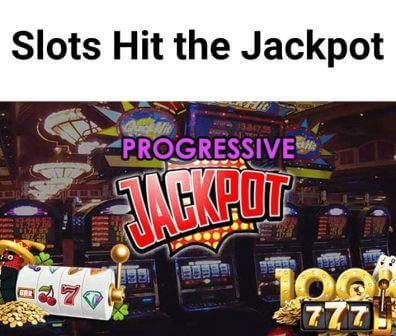 The most popular online casino games are slots, and progressive jackpot slots are among the most thrilling. It's hard to resist the temptation to spin the wheels of games that promise big payouts for a tiny outlay of cash.
Players have a very minimal chance of winning the jackpot, which is why the odds are stacked against them. This is to be anticipated, but it doesn't deter gamblers from giving it a go given the size of the prize pool.
Even though winning a jackpot on a video slot machine may seem impossible, it does happen every now and again. Typically, the winner is someone who staked only a few cents or pence each spin, which makes progressive jackpot games even more tempting.
Winning Odds
The likelihood of winning and the amount of money that may be made are inextricably linked. It doesn't matter whether you play slots, video poker, or table games; this rule holds regardless of what kind of casino game you play.
The chances of winning a progressive jackpot slot machine are less than one in a million when you spin the reels. This isn't an outlandish circumstance, though, since you have the possibility to earn seven-figure sums.
Fans of progressive jackpot slots shouldn't be discouraged by the thought of playing for years without winning the huge reward. When it comes to lotteries, the same can be said about their capacity to generate multi-millionaires.

Online progressive jackpot slots, even those spreading over larger networks, are subject to these regulations. Players at several casinos fight for the same prize, which is offered by software providers.
The prize grows with every wager placed on the game at any of the participating casinos. It's no wonder that certain slots consistently spawn new multi-millionaires, given that they're available at hundreds of online casinos throughout the globe.
In terms of major jackpots, the most popular slots see this happen a couple of times a year on average. More obscure games might take more than a year to pay for themselves. As a result, even if a winner is chosen at random, the chances are substantially better since there are so many more spins to go around.
It is worth noting that when it comes to winning slot jackpots there are several factors that affect the generating money, including:
Let's discuss them one by one and find what every slot player who wants to hit the jackpot needs to take into account.
Things That Affect Winning Slot Jackpots

Slot gamers have long been drawn to progressive jackpots, whether they're playing at a land-based casino or on the internet. These life-altering jackpots, on the other hand, can only be won once in one's lifetime.
RTP
It is the theoretical figure that offers you an estimate of how much of a percentage of your bets will be returned to you. RTP or Return to Player. If a game has an RTP of 95%, it indicates that throughout the course of its lifespan, it will return 95% of all bets. The higher the RTP, the greater the chance of winning the jackpot. There is no way of knowing in advance how long it will take for a game to award a jackpot based on RTP.
Volatility
RTP simply tells us how likely it is that a game will payout. However, volatility is used to assess the amount of time it will take for those expected rewards to materialize. The notion of a slot jackpot is intimately tied to volatility since as volatility reduces, the jackpots grow. However, they will be fewer in number, and the game's volatility will be stronger, resulting in lower but faster payouts.
Variance
Variance is commonly equated with volatility, although the two concepts are distinct. Despite this, there is a tiny difference between the two approaches. A slot machine's volatility informs us how likely it is to win in the near run. Variance, on the other hand, tends to provide us an overall picture of a slot machine's risk factor over a longer period of time. Due to a higher variance, the amount of time it takes a slot machine to hit two consecutive jackpots will be reduced.