Play Couch Potato Slot Machine Online for Free & Real Money
Online casino info
Last updated
Feb. 14, 2022
About game
Features
Wild Symbol, Autoplay, Multiplier
Pros
+

Up to 15,000 coins payout
+

Classic 3x3 layout with crisp visuals
+

Spectacular 97.43% RTP
+

High volatility title for bigger payouts
+

Wild symbols can multiply the win by 25 times
Cons
⨯

Audio is very mainstream and somewhat boring in today's standards
Screenshots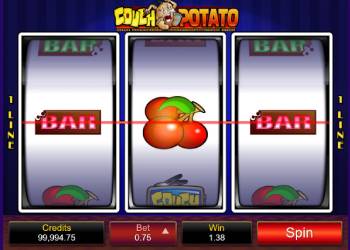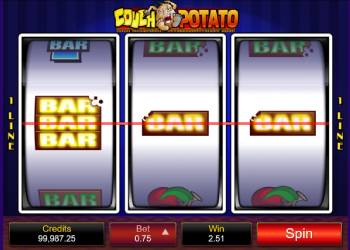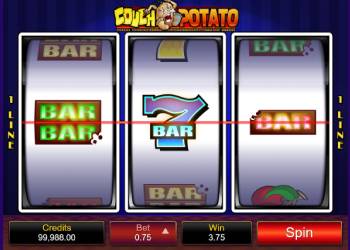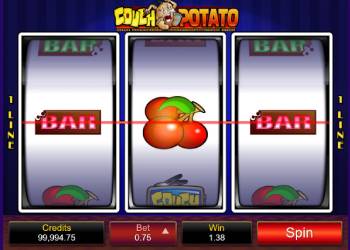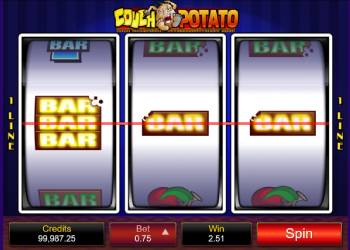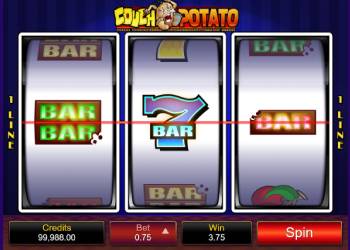 Screenshots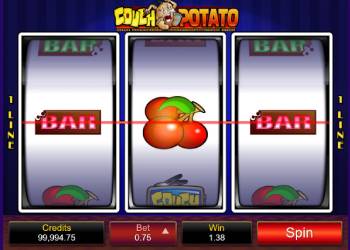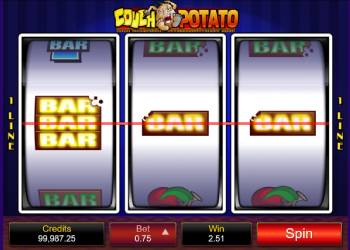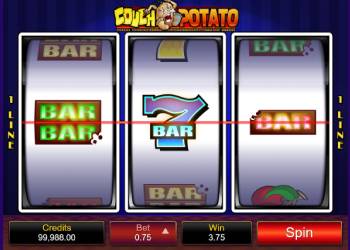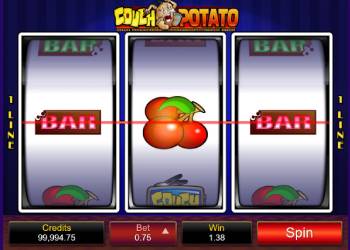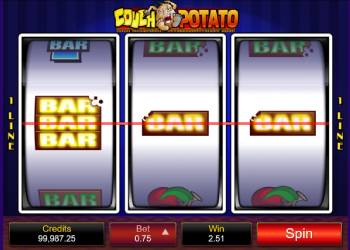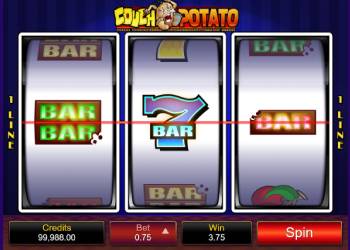 Couch Potato slots is an ultimate example of classic slots. It's also a great reference point to look back and reflect on how far online slots have come since 2003. This title is one of the most played games from Microgaming's library, given that it was one of very few developers at that time.
The purpose of this Couch Potato review is to take a look at the past and get a feel for nostalgia. If you're a new-gen slot player, this game may not appeal to you a lot. But we still urge you to read this review because it's always good to know how far the world has come.
What is the Highest Payout of Couch Potato Slots?
Since it's an older title, it's a little complicated to calculate the maximum payout of this game. It has only 1 payline that goes through the middle of the reels. It's a 3×3 setup where you can win up to 15,000 coins.
Your final payout is the multiplication of won coins and your coin size. Considering the max coin size of 5.00 currency credits, you can win up to 3,000x your bet.
Free Couch Potato Slots Spins
As of now, we take free spins rounds in online slot games for granted. The game we're reviewing today is the prime example of how things used to be back in the day. For starters, there are no free spins in the Couch Potato slot!
Couch Potato Casino Best Free Slot Machines Bonus Rounds

We can feel your disappointment after learning the fact that there are no free spins in the game. But Microgaming is not one of those slot providers to leave you hanging. Rather, it designed its own bonus feature using the Wild symbol.
Can you guess what the wild symbol is in this game? It's the couch potato game symbol! You'll find it written inside a CRT TV, one of the cutting-edge technologies of that era.
When you have 1 wild symbol on the payline, it substitutes another symbol to generate a win. Not only that but the symbol will also multiply your wins by 5x! The developer even knew how to spice things up with 2 wilds. Your winnings will be multiplied by 25 when it happens.
The only drawback is that the 25x payout will not trigger if 2 or 3 wilds land on the payline. Also, when it's alone on the line, it can't substitute the cherry.
Symbols & Features of Couch Potato Casino Game
As we're dealing with the Couch Potato slots free play and real money, a game almost 20 years old at the time of writing, there's not much variety in symbols. These are the same ones you've seen over and over on classic titles to date.
| | | | |
| --- | --- | --- | --- |
| Symbol | 1 Coin/Line | 2 Coin/Line | 3 Coin/Line |
| Couch Potato Wild | 2000 | 5000 | 15000 |
| Lucky 7s | 60 | 120 | 180 |
| 7 Bar | 50 | 100 | 150 |
| 7 Any | 40 | 80 | 120 |
| 3 Bars | 30 | 60 | 90 |
| Any Tow + Wild | 25 | 50 | 75 |
| 2 Bars | 20 | 40 | 60 |
| Cherry Bar | 10 | 20 | 30 |
| Any Bar | 5 | 10 | 15 |
| Any Two + Cherry | 2 | 4 | 6 |
Keep in mind that these are the number of coins you can win for different coins per line configuration. To get your actual payout in currency credits, multiply it with the coin size.
The Available Buttons in the Game

It might be an older game but it doesn't mean you won't find modern buttons. In fact, the buttons in the Couch potato slot look just as timeless as they did back in the day.
Left/Right Arrows: On both the left and right end of the game interface, there are arrow buttons. It's to navigate between the 3 main screens of the game. The middle one is where you actually play the game. The left-most screen is to configure your bet. And the right-most screen is the Paytable.
Coin Size: On the left screen, the coin size dropdown menu lets you choose between 0.25 and 5.00.
Coins Per Line: On the same screen as the coin size, there's another dropdown menu for coins per line. The values are 1, 2, and 3. Also, this page contains 2 options where you can toggle the audio and the quick spin feature on and off.
Bet: If you want to modify your bet value without going to the left screen every time, you can do it directly with the "Bet" button on the game screen.
Spin: This is the main gameplay button. As there is no Autoplay option in Couch Potato slots, you have to use this button all the time.
How to Start Playing the Casino Game
Despite the Couch Potato slot game being very old, it's still a popular title at many online casinos. We've already sorted them out for you. All you have to do is open an account, try out the demo, and make a deposit to play the Couch Potato slot machine app.
Gameplay Images of the Game
In terms of theme, there's nothing much going on in this game. But it never hurts to get an idea of how a game looks before you play, right?
Compatibility for Mobile Devices
During the initial days, it was not possible to play Couch Potato slots from mobile devices. Microgaming was kind enough to release the game again in 2013, optimized for mobile devices. So, as of now, you can play the game from mobile browsers as well as through apps.
RTP and Volatility
Brace yourselves because the RTP rating of this game is quite phenomenal. You stand the opportunity to win up to 97.43% of your bets back over time!
According to Microgaming, it's a high volatility slot. It means the payouts are generated after longer intervals.
Similar Games to Couch Potato
Solar Eclipse
Burning Wins x2
Magnus Opus
Shining Crown
Shadow of Luxor
Final Thoughts
The glory days of 3×3 slots might be over in general, but there's still a huge fanbase for these games. The popularity of Couch Potato slots is more than enough proof we need to keep the legacy on.
Frequently Asked Questions
Does Microgaming allow Couch Potato slot machine in demo mode?

Yes, it does and so do the casinos we've recommended on this page.
I Liked Couch Potato slots for free. Is there a real money version?

Yes. If you're already impressed with the free play version, wait till you go into the real money one and start winning massive prizes.
How can I play the game on my smartphone?

If it was before 2013, you couldn't Couch Potato slot free play and real money from smartphones or tablets. But it's not the pre-2013 era anymore, is it?
How is the real money version different from the Couch Potato free slots version?

Both of the versions are identical. The technology was not on par during that time to tweak the free play hit rate.
Do I have to Couch Potato slot machine free download?

No one will force you to download anything. If an online casino seems to force a download on you, it's suspicious. You're always free to play the game from browsers.
What are my in-game jackpot options?

There are none. The concept was not popularized at that time.
What is the rated RTP for this game?

It's a whopping 97.43%. It's one of the highest RTP for online slots even by today's standards.
What is the highest paying symbol in free slot games Couch Potato?

The wild symbol can form the highest payout combination. For 3 coins/line, you can win up to 15,000 coins!
Is free slot games Couch Potato safe to play?

Microgaming is the developer of this game and it's the oldest provider around. Its operations are licensed by both the United Kingdom Gambling Commission and Malta Gaming Authority. So, yes, it's safe for you to play Couch Potato slots.
What's the special feature of this game?

The wilds can multiply your winnings by 25 times. It's the only special feature in the game.
How to identify the best online casinos to play this game?

We've already done the legwork (read fingerwork) for you. Just pick a brand and start playing.