Crystal Forest Slot Machine Online for Free & Real Money
Online casino info
Last updated
Mar. 18, 2022
About game
Features
Wild Symbol, Free Spins, Jackpot
Pros
+

Low variance is a good choice if you want constant winnings
+

Progressive jackpot allows for a massive payout
+

Nice graphics will keep you engaged for longer
+

Free spins bonus is available
+

Autospin button makes playing the game easier
Cons
⨯

The max bet is just 2 coins, which might be too low for high-stakes gamblers
⨯

It can be hard to trigger high payouts so you must get lucky
Screenshots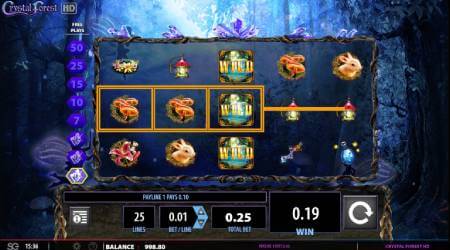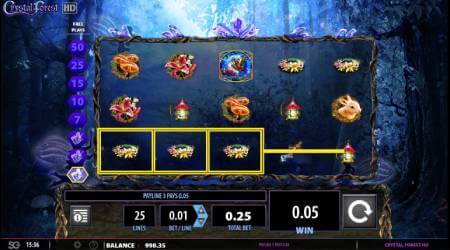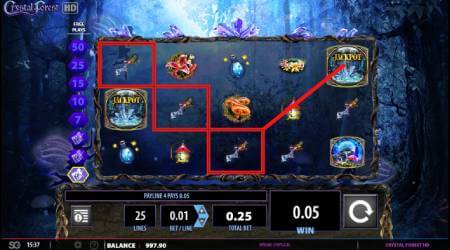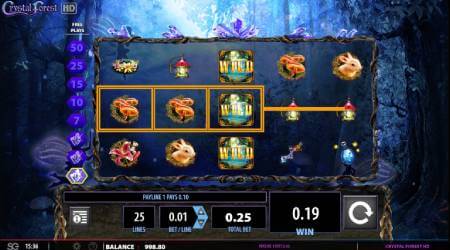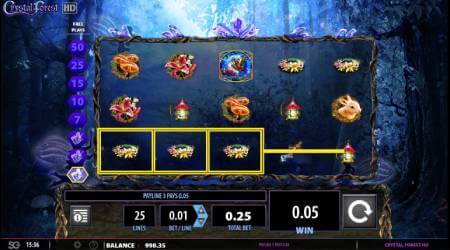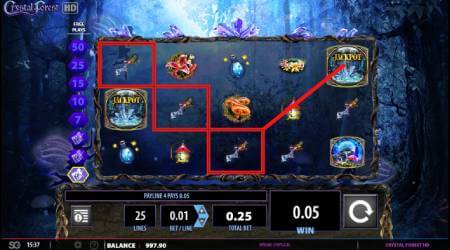 Screenshots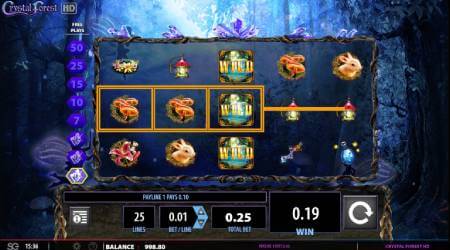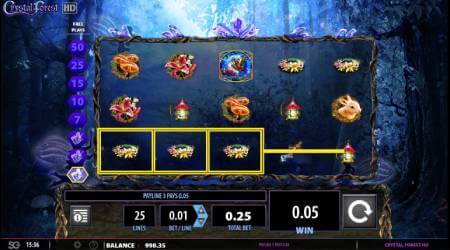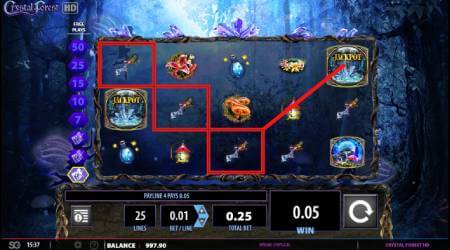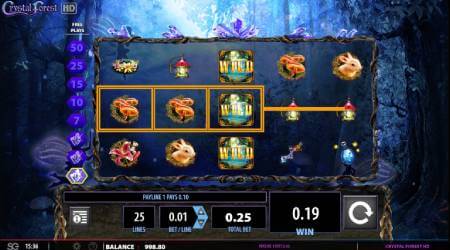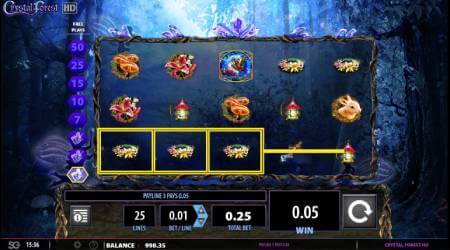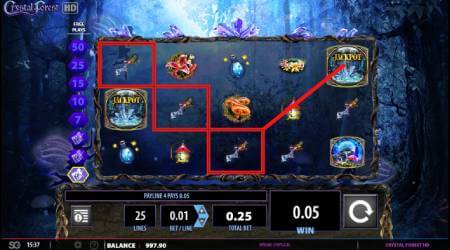 Crystal Forest slots is a great choice for gamblers that are looking for an amazing experience. The mixture of the nice graphics and decent RTP of 96%. Take the time to learn more about this great gaming experience by reading the rest of this review. This game is developed by WMS, and the theme can be described as magic and animals.
Is Crystal Forest a High Pay-Out Experience?

The RTP of this slot is 96%, which is above average for the casino gaming industry. Therefore, you can enjoy more winnings than games which have a lower RTP. Also, some online casinos allow you to win up to $18,750 for a single spin. However, you need to get very lucky to trigger this reward.
Does Crystal Forest Offer a Free Spins Reward?
You can win free spins in this game if you manage to get 4 cascades in a row. A cascade is triggered after each win, so essentially you need to get 4 wins in a row to get free spins. However, if you manage to get 8 cascades, then you will receive up to 50 extra spins that enable you to receive even more winnings.
Bonus Rounds to Win With Crystal Forest
There are many bonus rounds that you can trigger when playing this slot. In this section we will provide a breakdown of the top ones so you can understand what to expect when playing for yourself.
Cascade: this is a reward that is received after every win, so you will get it often. The feature removes symbols and adds new ones so you have a better chance of winning.
Free spins: This feature is one of the most popular in the slots gaming industry. You will need to get 4 or 8 cascades in a row for this feature to trigger. However, once you do the rewards are worth the wait.
Wild: the wild symbol in this game is a magic tree that is hard to miss. It is a good symbol to hit because it can be exchanged for others in the hopes of winning higher valued prizes.
Crystal Forest Slot Machine Features
In this section we will be taking a closer look at the various symbols that you will find in this game and the rewards they provide. This allows you to understand what you should be looking out for. Therefore, you can anticipate the top symbols and not get confused by the payout.
Crystal Forest Slots Free Buttons to Learn
The controls that you need to learn about include the + and -, which allow you to set the bet size. Also, there is a help button that brings up the screen with information about the paytable. Then the autoplay button can be used to automatically spin the wheels and take credits from your account. Finally, the spin button is the most popular that you will be pressing since it puts the game into action.
Crystal Forest Casino Game How to Play

Now let's take a closer look at the best way that you can play to have the most fun. Keep in mind that this is only a luck-based game, so no amount of skill can improve your odds of winning. Furthermore, you can start learning to play the game by using the demo version. This allows you to figure out the symbols and bonuses that are available.
You will see that the wild symbol is the best and you will need to swap for another when it lands. Choosing symbols that are already on the board offer the best winnings. Also, note that there are 5 reels so there are multiple symbols to hit per spin.
The minimum amount you can bet is 0.01 coins and it is the recommended amount to start for new players. However, the maximum you can wager in a single spin is 2. High-stakes players may want to have access to higher maximum amounts to cater for bigger winnings.
Crystal Forest Slot Machine App
Playing this slot is easily done using a mobile device. You will need to download the casino app on your mobile app, which takes just a few moments on the Google Play or App Store platform. The quality of the experience will somewhat depend on the specific device you are using. Choosing to enjoy the gaming experience on a bigger screen means you will have an easier time.
Crystal Forest Free Slots Rtp and Volatility

96% is the RTP of this slot, which is more competitive than many other games in this category. It means that you can enjoy a decent win rate. Also, the volatility is low, so that means the rate of payout will be constant. The drawback of this payout format is that triggering high payouts is much harder.
Games Similar to Free Crystal Forest Slots
You can enjoy many other slots that have things in common with Crystal Forest game. Playing other slots enable you to have a variety in your gameplay. Some of the top alternatives to consider that also have low variance include 20 Golden Coins, Jimi Hendrix, Star Joker, Lara Croft: Tomb Raider, Dragon's Myth, Carnaval, Aloha Cluster Pays, Dazzle Me and Classic 243.
Final Thoughts on Crystal Forest Slots for Free
Overall, Crystal Forest is a nice slot that provides a mixture of bonuses and a competitive RTP. It is a low variance game and the theme is beautifully crafted. Also, it is a progressive jackpot that allows you to get winnings of over $18,000 on some websites.
FAQ
Is a Crystal Forest free version possible?

You can enjoy the demo version of this game, which allows you to test out various features. It will help you figure out if the slot is the right choice for your gaming needs. It will also help you understand the symbols and how the bonuses work.
Is real money play available with Crystal Forest?

One of the best ways to enjoy Crystal Forest is by using the real money version. This allows you to wager real money from your account with the hopes of winning cash. This can then be withdrawn to your bank account.
Is Crystal Forest playable on the mobile app?

Visit Google Play and the App Store to figure out if the casino where you are playing has an app for download. When you download the casino app you need to check if this game is on the list of slots. If WMS is one of the available software developers, then you can play Crystal Forest on the mobile app.
What is the difference of demo and real money versions?

With the real money versions you can use funds in the cashier and place wager that result in real winnings. These funds can then be withdrawn to your bank account and buy real products. On the other hand, the demo version only provides winnings that are not real and you cannot withdraw them.
Must you download free slot games Crystal Forest to play?

It is possible to play this game on the browser using flash technology, so there is no need to download. This means you can start gaming in just seconds from finding the slot.
Are there jackpot winnings?

There is a progressive jackpot that results in big fees.
What is the RTP?

The RTP is 96%, which is above average.
What symbols provide the best payouts?

The best symbols are wild, which means they can be swapped for another other. It is a magical tree in this game.
What Crystal Forest special features are present?

Some of the top special features are progressive jackpots, wild symbols and free spins.
Where can you find Crystal Forest game?

You can check the casinos on our website or visit search engines.