Lounge 7 Seat Baccarat Review
Playtech has developed different variations of table games like Blackjack, Poker, and Baccarat. The core rules remain the same but there are usually side options to help the game feel more unique and fresh. Lounge 7 Seat is one of the games that sticks pretty close to the original and is aimed at those players who mostly prefer traditional Baccarat.
So, if you are not a fan of some features that Playtech added to their games for Canadian online casinos, like squeeze, VIP tables, and Mini Baccarat, then go for Lounge 7 Seat. The setting and number of seats are created in a traditional fashion, and you will also notice that unlucky seat number 4 is omitted from the setup.
How to Play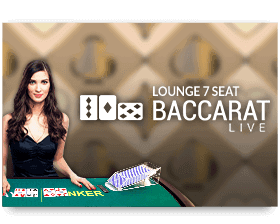 Once you enter the game you will have to pick a table. The seats will be clearly marked so that it is apparent whether there is a seat available for a new player to join. Once you are at the table, you just have to place bets, on already familiar options – banker, player, and tie. These options are at the bottom of the screen, and the interface is user-friendly, so you will instinctively figure out how to place wagers.
If you get bored with regular bets, there will be a few side bets that you can place, and test your luck on more challenging odds. There are pair bets (banker, player, and perfect), and you are highly encouraged to try them out and make the game less repetitive. Each of these options has a payout table displayed, so players can instantly figure out what to expect in case they win.
The whole platform is really straightforward, and you will navigate it with ease. There are also live chat options, in case you wish to communicate with the live Baccarat dealer. There is also game history and statistical analysis of previous hands, so if you wish to take this information into an account you can do so.